Flemington & Kensington Community Legal Centre
Latest News and Events
---
Know Your Rights information session:
Wednesday 9 May 2018
9.30am - 2.00pm
Flemington Community Centre, 25 Alexander Road

The Somali Women's Project has an information sessions will be empowering, giving women the tools to navigate the law themselves.
Please RSVP to (03) 9376 4355 for catering, seating, interpreters and childcare. Childcare has limited places and especially requires booking.
We are also collecting responses to our survey (PDF available here):
All Somali women welcome to attend.
If you have any queries, contact Nimet Gurleyen on (03) 9376 4355 or 0431 063 308 or email lawyer1@fkclc.org.au
---
Become a Legal Referral and Intake volunteer
Help us provide access to justice for our community.
Are you:
passionate about supporting your community?
want to learn more about law and justice issues affecting us all?
open minded, a good listener with great communication skills?
possess good working knowledge of MS Office programs: Word, Excel, Outlook
available to volunteer 1 day per week during business hours for a six months or longer?
If you've answered YES to all the above, email admin2@fkclc.org.au for an Application Kit Please provide us a brief paragraph in the email why you wish to become a legal referral and intake volunteer.
Send in your Application and CV and you will be notified of our next Induction and Training session
Our Legal Referral and Intake Volunteers play a vital role in our community legal centre. They are the community's first contact on our front desk, fielding calls for legal help, booking appointments and providing people with high quality support, information and referrals. They are the information and communications hub of our centre.
We are seeking people with office, front desk or reception experience, with great telephone skills and the ability to learn and communicate information clearly and accurately.
By training and working with our centre you will:
Stay in touch with issues affecting the diverse communities we serve
Be part of a great team of staff and volunteers
Become knowledgeable about the huge range of legal and community support services available in Victoria
Learn and practice valuable professional legal referral and intake skills
Volunteers say working at our centre is an immensely satisfying, stimulating and enriching experience.
To Apply email admin2@fkclc.org.au for an Application Kit
---
Congratulations Heather!
We are pleased to announce that our wonderful Admin volunteer Heather Boyle has been shortlisted to receive a 2016 Victorian Premier's Volunteer Champions Award which are held each year as a celebration of the extraordinary contributions of volunteers in Victoria.
On 12 October 2016 Heather will have made an amazing
10 year contribution to our community legal centre, as an office administrator, for two days a week. In this time she has displayed impressive professionalism, and commitment to our work.
Heather's most impressive achievements have been her ability to complete a thankless, and at times invisible task - the smooth operation of a community legal centre.
With endless energy and enthusiasm she answers phones, greets clients, and manages diaries. She brings the same energy to the less visible and thankless tasks of running an office - stocking photocopiers and stationary cabinets, ordering supplies, ensuring files are prepared and ready for lawyers, watering sad pot plants, and keeping our office looking good. And always arranging birthday cakes for all staff members.
The most significant impact of Heather's work is the fact that we are able to spend the majority of our financial resources on employing staff who can undertake case work and advocacy, ensuring that very little of our stretched budget is spent on administration. Heather's work is less visible to outsiders, but forms an essential part of our organisation.
Heather's has an amazing ability to handle the most angry, confused or frightened client.
Desperate refugees with barely a word of English, drunken or drug affected clients, courts, Q.C's, barristers and politicians , elderly will makers and domestic violence victims. They are all received by Heather in a calm, polite and professional manner.
Heather displays her beautiful personality to all who attend our centre, and to all who work with her. Many a lawyer has relied on her, and many a law student has sat next to her, learning as she manages the most difficult client. If you walk into our busy reception you will likely find Heather chatting to a happy client, who was had arrived distraught and upset only minutes earlier.
Heather has volunteered at our centre two days a week for almost a decade. Sick days are unheard of. Her only time off in recent years has been to care for a new rescue dog when it was first welcomed into her home.
The nomination is well deserved. Award receipients will be announced in October.
For more information about the Premiers Awards see: www.dhs.vic.gov.au/premiersvolunteerawards
A guide to being a responsible car owner
Driving an un-insured vehicle creates a wide range of legal and financial issues for drivers, and the Flemington and Kensington Legal Centre often deals with clients who are faced with large debts as a result of a motor vehicle accident whilst they were driving an un-insured vehicle. This can ultimately lead to years of paying off a large debt, or even bankruptcy.
Victorian law requires that all vehicles driven on public roads are registered through VicRoads. It is important to ensure that the car you drive is registered, and the details of this registration are correct at all times.
If you have recently moved houses or any details about your car or its registration status have changed, it is compulsory that you notify VicRoads within 14 days. For example, if your details are not up to date, a fine that you receive can be sent to the wrong address and the amount payable can increase substantially. Unless you nominate another driver of the car within 28 days, you will be responsible for the fine.
To avoid this, confirm your details are up to date and your current address listed with VicRoads is correct.
When you pay your vehicle registration, you are insured for personal injuries that may be suffered by a third party in a motor vehicle accident. However, did you know you are not covered for any damage to the property of a third party in the case of an accident?
You are personally liable and will be required to pay for the damage incurred if you are at fault.
Third party property insurance is a separate policy which can be taken out to cover you in the case of damage to the property of a third party (e.g. damage to another vehicle). It is not mandatory to have third party property insurance, however it is always recommended to take out a policy to make sure you are prepared in the case of an accident.
However, you are still not covered for damage to your own vehicle unless you take out a comprehensive car insurance policy. Comprehensive car insurance may be expensive and is not suitable for everyone, however there are ways to ensure that you are getting the best value for money from your car insurance provider.
There are now ways to easily and quickly compare car insurance policies both online and over the phone, which will help you to find the cheapest policy which is suited to your needs.
Put your mind at ease, and ensure that you are insured.
This news item is up to date as at May 2016. Please seek legal advice for your personal circumstances.
Written by Jack Maloney & Lisa George
---
The Amazing Denise Gardner
APRIL 2016
The Flemington Kensington Community Legal Centre recently marked Denise Gardner's 27th year of employment at the Flemington Kensington Community Legal Centre.
Denise, a qualified teacher of Legal studies, was once working as a teachers aid at Flemington High School when Karen Pyke, our centre's veteran Board Member, casually suggested that she might like to volunteer at the local community legal centre. For most of the twenty-seven years since, Denise has worked as a Migration Agent, seeing many hundreds of clients from the most war-torn parts of the planet and has borne witness to the relentless changes to global migration patterns, Australian Government refugee policies and Immigration Depart name changes.
She has seen civil wars break out and peace processes endure. Due to her skills, compassion and courage, Denise was soon working almost exclusively with clients brought in by the Foundation for Survivors of Torture and Trauma (now Foundation House) in the difficult humanitarian family reunions.
"Denise is truly an incredibly gifted, dedicated, compassionate, knowledgeable, multi-talented, wise and awesome migration worker" declared Giovanna Citta, a Counsellor / Advocate at Foundation House.
"Foundation House clients and counsellors have been blessed in many ways through the wonderful work that Denise has done over years with us. She has often travelled and supported people on their journey's, and has been successful in supporting people to be reunited with their family members. We are forever thankful and privileged to work alongside such an amazing person."
Denise's cases take many years. It is hard long term work. A man that Denise had once described as "…a desperately sad and crumpled human being" due to a family history of brutal and systematic imprisonment and torture covering more than seven pages, was finally reunited with his parents due to Denise's work. The application lodgement date was June 2010 and the visa was not issued until February 2014 – almost four years later.
For many years Denise assisted dozens of young protection visa holders to prepare special humanitarian visa applications for their parents. These are teenagers who fled Afghanistan, Pakistan, Iran and Iraq and had been found to be genuine refugees and granted Protection visas to enable them to live permanently in Australia. Fighting cut-off dates, department threats and with minimal resources Denise worked within a coalition and helped develop clinics to get as many through as possible.
Denise's hard work as part of this Unaccompanied Humanitarian Minor (UHM) Consortium was recognised in September 2014 with the 2014 Children's Law Award, a National award for outstanding legal representation and for promoting the rights of children and young people.
Denise has listened to, helped, supported and reunited families from Chin and Karen regions in Burma, Ethiopia, Sudan, El Salvador, Congo, Afghanistan, Iraq, Turkey, and Tibet to name just a few. Many of Denise's clients haven't seen their husbands, or wives or children for years, some for decades. Almost all of her clients have experienced horrific abuse, torture or imprisonment. She was often the only free migration agent available and the only one with depth of experience. Denise's resilience in her work is astounding, reflecting her experiences, professional practice, her well-travelled worldview and perhaps her time each week under the old oak tree on her family farm in Warragul.
Denise is perhaps the longest serving, continuously employed legal worker in the entire Victorian community legal sector.
We are immensely proud to have Denise here at Flem Ken. Her skills and experience is immensely valued not just by us, but by so many clients, workers and families throughout Victoria.
Anthony Kelly
Executive Officer
---
What to do if you are abused or assaulted due to your race or religion?
In Victoria it is against the law to physically assault or threaten to assault someone.
It is also against the law in Victoria to yell, scream or hurt someone because of the colour of their skin or their religion. For instance because a woman is wearing a hijab.
Islamophobic assaults are racial vilification and are against the law.
If you experience an assault seek support as soon as possible from friends, shopkeepers, or anyone nearby.
Collect any photos, names and contact numbers of witnesses or people who helped you. Write them in your phone.
Report to Police
Any incidents should be reported immediately to Triple Zero (000)
or go to your nearest police station as soon as possible.
Victoria Police have promised to take all reports seriously and respond in a fair and unbiased manner.
Chief Commissioner Ken Lay has said "It's very important for Victoria police to become aware of these events so we can take decisive action."[1]
If you feel that the police have not taken the attack seriously enough, because of your race or religion you can make a complaint to the Human Rights Commission (below) or to your local community legal centre.
Report to the Human Rights Commission
You can also report the incident to the Victorian Human Rights and Equal Opportunity Commission (VHREOC)
You or someone on your behalf can make a complaint to the Commission online or call: 1800 292 153
They will record the incident and may help you resolve the complaint through their mediation service.
What to report
It will help if you can give the following information:-
how you were attacked or what you saw
Where and when it occurred
the identity of the attacker and where they live, if you know it
what the attacker looked like and/or what they were wearing
what the attacker said, particularly anything insulting about your race or religion
the nature of any injuries sustained
whether anyone else was attacked
the names and addresses of any witnesses
whether you have been attacked before
Accessing Counselling Services.
It can be very distressing to witness or experience an Islamophobic assault or abuse.
Severe cases can be traumatic. Common symptoms of trauma can include constant worry about being attacked again, not feeling safe when you are on the street, feelings of anxiety that were not there before or heightened, feeling like you want to avoid going out or avoiding the area where the attack occurred, replaying of the attack in your mind.
Counselling can help victims of crime to recover more quickly and prevent the further decline of your mental health.
The Victims of Crime Assistance Tribunal can award victims of crime funds that go towards counselling expenses. You can choose the counsellor you wish to see and counselling is a confidential service. You can get more information from a police station or by visiting www.victimsofcrime.vic.gov.au or calling 1800 819 817.
If you want to talk to someone quickly and confidentially about your feelings of distress, don't hesitate to contact LIFELINE on 131114.
Seeking Legal Advice
If you would like legal advice you could contact your local community legal centre call: (03) 9652 1500
Or contact the Muslim Legal Network on 0426 845 306 contact@muslimlegalnetwork.com
Monitoring Anti-Muslim incidents
You can also report incidents to:
Muslim Legal Network contact@muslimlegalnetwork.com
Islamophobia Register Australia islamophobiaregister@gmail.com or on their Facebook page
Racial profiling
If you believe you were treated unfairly by police or security guards due to your race or religion you can also call the Victorian Human Rights and Equal Opportunity Commission (VHREOC) on 1300 292 153
Please also report this to the Flemington Kensington Community Legal Centre on 03 9376 4355 or fklegal@fkclc.org.au
What is racial or religious vilification?
The Racial and Religious Tolerance Act 2001 makes it against the law to vilify a person or group of people because of their race or religion.
Vilification is behaviour that incites hatred, serious contempt for, or revulsion or severe ridicule of a person or group of people because of their race or religion.
The legal definition is conduct that 'incites hatred, serious contempt, revulsion or severe ridicule'.
---
[1] 'Muslims urged to report Islamophobic attacks to police amid growing tension' theguardian.com, Friday 26 September 2014
---
Public Statement: Monday 4th November 2013
The facts on 'Horse Dribble' story

The Flemington & Kensington Community Legal Centre is concerned about recent media stories which trivialise and misrepresent a serious case recently filed in the Country Court.

The case in question has nothing to do with 'horse dribbling', but alleges assault and unlawful battery.

The case involves police horses being used at a protest that resulted in one of our clients on crutches for almost a month and another who suffered a broken collarbone after a horse rolled on top of him. Both people involved were transported by ambulance to the local hospital for their injuries.

The reason horse saliva was even mentioned in the Statement of Claim was as evidence that one of the clients was hemmed in at the edge of a crowd of people directly under a police horse's head whilst marching, was in fear of being trampled or bitten by the horse; felt frightened and intimidated by the horse; and moved away from the horse as soon as he was able to do so.

The Herald Sun is correct in saying "If tangible injuries have occurred as a result of police negligence then the right to legal redress is available." (Editorial 4/11/13). Cases like these are, at times, the only way for people who have been injured by police to seek redress, as our current formal compliant system is woefully inadequate. The Victorian Parliament have not had any regulatory oversight on how police horses are used for many decades.

Taxpayer funded

This case is not legally-aidable and is being assisted by Counsel working on a 'no-win, no fee' basis. Cost to the tax payer for a case such as this is negligible. This centre sees over 600 people each year for a wide range of legal problems. We are proud of the work we do representing vulnerable, injured Victorians and for those who have no other options to seek justice.
Community legal centres have a substantial cost-benefit impact through early intervention in legal problems, preventing problems before they become more costly.

Police Horses

This centre strongly believes that police horses should not be used as a method of crowd control in this day and age.

Executive Officer, Anthony Kelly, has called for an immediate and total ban on the use of horses at future public protests.

"Horses should simply not be used as a method of crowd control." Mr. Kelly, said today. "When horses are run directly into or near large crowds of people who can not move back it is too easy for people to be violently pushed by the horses, to fall under, and be trampled. The risk of serious, life threatening injuries to people when horses are used is far too great."

"Horses are an anachronistic, Victorian-era policing method that has no place in modern society." he said. "The continued use of horses as crowd control threatens the right of every Victoria to participate in peaceful assemblies without being seriously injured by police action."

For more information please contact:

Anthony Kelly, Executive Officer 9376 4355 during business hours

About Flemington & Kensington Community Legal Centre
Flemington and Kensington Community Legal Centre (FKCLC) has been working closely with its community to address legal issues of concern for over thirty years. The Centre has expertise in relation to young people, police accountability law and police powers.

Letter to the Editor, Herald Sun, Published Wednesday 6th November 2013.
As a criminal barrister of five years standing and currently a volunteer at the Flemington and Kensington Community Legal Centre I am acutely aware of the guidelines surrounding access to funding for accused persons in Victoria through taxpayer monies.
In addition to performing this poorly paid work in the interests of maintaining access to justice for Victorians, I volunteer my time as part of the Centre's Monday night free legal advice service. I have also volunteered my legal expertise as part of major cases that the Centre has previously brought against Victoria Police.
The main reason why I choose to volunteer my time for the Centre is because of its high standards of professional client service and its strict adherence to a policy which ensures that the cases that the Centre takes on will not only benefit those members of the community who most deserve free or affordable access to justice but also, are those cases that are most likely to serve the community as a whole.
The case that David Hurley reported on (although loosely at best given the level of accuracy of his report) involving police horses is a deserving case on both of these fronts.
On the whole, the Centre does fantastic work and this work is good value for money for the taxpayer.
Kind regards,
Amy Brennan
Barrister
Clerk Paul Holmes
Melbourne
---
People's Hearing into Racism and Policing
Have your voice heard
You are invited to attend and participate in Melbourne's first People's Hearing into Racism and Policing
If you have experienced racial or religious profiling by police, or if your family, group, clients or community have been impacted by racially discriminatory policing this is your chance to tell your story.
Download the Poster.
The People's Hearing is a safe and supportive opportunity to ensure all community voices are heard.
It will identify the nature and extent of racial profiling by police and look for systemic long-term changes to prevent it.
We will hear from impacted communities, witnesses, victims, advocates and community representatives.
The People's Hearing will produce a public report to submit to government and the Victoria Police inquiry into racial profiling.
This is a free and open event over 2 days. All welcome
9:30am Saturday 17 August &
10am Sunday 18 August
Melbourne Town Hall, Swanston Street, City
If you are interested in sharing your story contact Reem Yedego youthofficer@fkclc.org.au or phone 03 9376 4355
Find out more:
www.imarayouth.org/peoples-hearing/
Media: Contact media@imarayouth.org or phone 03 9376 4355
To volunteer and help out: Contact volunteers@imarayouth.org or phone 03 9376 4355
Jointly organised by:
IMARA Advocacy
Flemington Kensington Community Legal Centre
Supported by:
Smart Justice for Young People
Youth Law
Institute for Postcolonial Studies City of Melbourne
Stillwaters Storytelling Collective
Africa Downunder
Springvale Monash Community Legal Service
Progressive Law Network
The People's Hearing acknowledges the Wurundjeri people as the traditional owners of the land we meet upon and recognises the ongoing impact of racialised policing upon Indigenous communities since colonisation.
---
ARBITRARY STOPS OF MOTOR VEHICLES ARE ILLEGAL
WATSON V KABA ( MELBOURNE MAGISTRATES COURT)
On 20 June 2013, Melbourne Magistrate Duncan Reynolds ruled that Victoria Police "neither had common law nor statutory power" (see page 8 of the ruling) to stop a motor vehicle, under section 59 of the Road Safety Act (1986) in the circumstances described by the police officers that at the time "they were required to make a number of random intercepts of vehicles. Before requesting drivers to stop the vehicles they had no information about the status of their registration, whether the registered owners had valid driving licenses nor as to whether the vehicles and their occupants were associated with any alleged breach of the Act or regulations".(page 7).
In this case, Magnus Kaba (the accused) was a passenger in a motor vehicle stopped by police in a "routine intercept". Both Magnas and the driver of this vehicle were young African males. There seemed to be no apparent reason to conduct a "routine intercept" on this vehicle.
Section 59 of the Act imposes obligations upon a driver, being the obligation to stop, produce a licence and state name and address if requested by a police officer. In discussing whether police had the power to randomly stop vehicles, under s59 of the Act (pages 6&7), Magistrate Reynolds concluded that as this power is not expressly stated then it would need to be an implied power. He went on to say that unless there is clear and unequivocal language to the contrary, legislation is to be construed to minimise encroachment of rights and freedoms. Magistrate Reynolds concluded that the in stopping the vehicle the police had acted unlawfully and unjustifiably breached the freedom of movement of the vehicle occupants and subjected them to arbitrary detention contrary to the Victorian Human Rights Charter. (page8)
In conclusion Magistrate Reynolds noted that the police were not involved in overt defiance of statutory or common law. However, by stopping the vehicle without any lawful justification, detaining the occupants and asking Magnus for identification breached his rights, recognised by the International Covenant on Civil and Political Rights. Magistrate Reynolds determined that the police had interfered with Magnus's human rights and accordingly exercised his discretion to rule the police evidence inadmissible under s138 of the Evidence Act. (page 10)
The case has significant implications in all situations where the police arbitrarily stop a person and is relevent to the current Victoria Police Public Inquiry into field contacts. The case may be subject to an appeal.
You can download a copy of the ruling here
You can read the Age coverage of the ruling
here
Police and Racism: What we can do about it
A public forum and expert panel on racial profiling and on how you can contribute to Victoria Police's Public Inquiry and find out about the People's Hearing in August 2013.
4.00pm Wednesday 3rd July
Speakers Include:
Tamar Hopkins / Principal Solicitor from Flemington Kensingston Community Legal Centre
Maki Issa / Applicant in the Haile-Michael Federal race discrimination action
Hanah Fesseha / Imara Advocacy, a youth-led organisation advocating for the rights of young people of colour in Melbourne.
Plus more.
Download the Flyer here (PDF)
The Victoria Police inquiry into represents a real hope for substantial reform and an end to racial profiling in Victoria. Addressing racially discriminatory policing would substantially improve the way in which police work with newly arrived, immigrant and culturally diverse communities in Victoria and see a rise in community confidence, trust and respect for Victoria Police.
This historic opportunity is the result of a settlement between six courageous young men and Victoria Police as part of the Haile-Michael Federal race discrimination action. Individuals, organisations and agencies affected by racially discriminatory policing can now contribute to a community consultation until the end of July.
Event Details
Date: Wednesday 3 July
Time: 4:00pm—6:00pm
Venue: Springvale Monash Legal Service
5 Osborne Ave, Springvale
Near Springvale Train station
Registration : Free, by Monday 1 July
http://racialprofiling.eventbrite.com.au
03 9545 7400
Enquiries
Kristen Wallwork
Kei Judd
03 9545 7400
You can submit to the Victoria Police Inquiry into racial profiling here.
---
Report on Public Forum: After the Race Discrimination Case
Our Public Forum: After the Race Discrimination Case was held on Tuesday 16th April, 2013.
The panel of speakers, Maki Issa, Daniel Haile-Michael, Peter Seidel (Arnold Bloch Leibler), Yin Paradies, Ross Barnett and Tamar Hopkins covered an extraordinary array of hard-hitting and important information about racial profiling and what we need to do to prevent it.
For those that missed the forum or if you want to share or re-visit the presentations: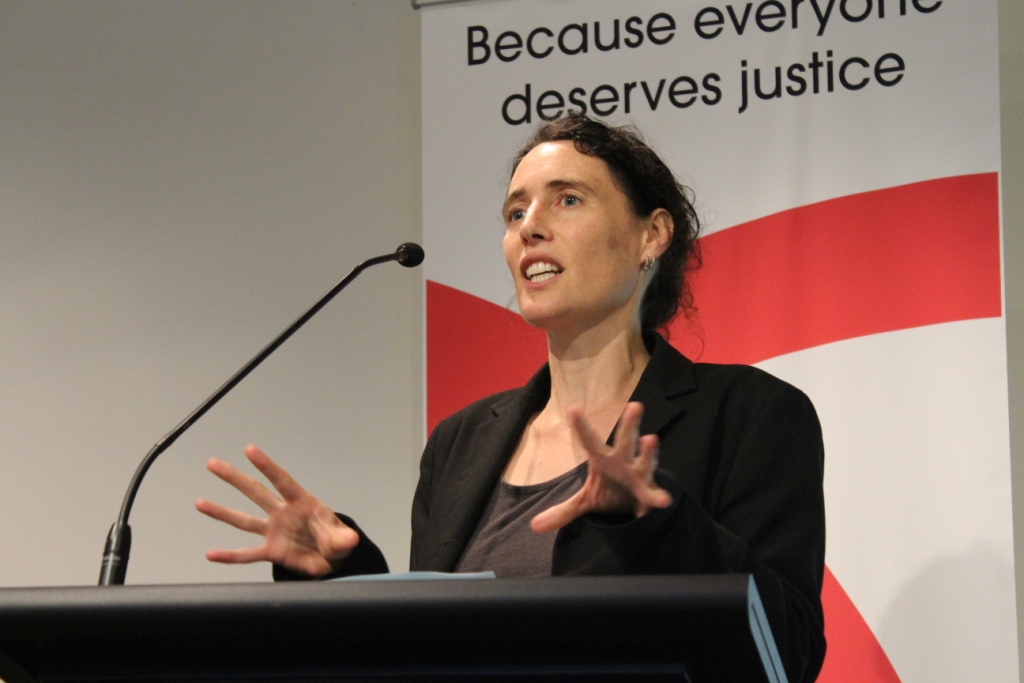 In her talk, Tamar Hopkins, of Flemington Kensington Community Legal Centre, outlined in detail the steps to adequately address the problem of racial profiling. A complete copy of these steps for Victoria Police, the State Government and the community is available here.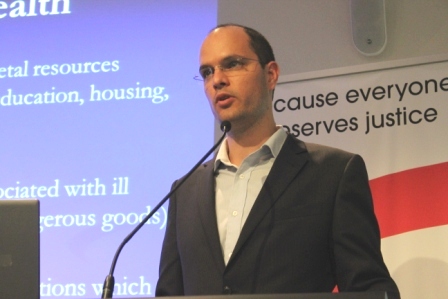 Associate Professor Yin Paradies, Co-Director of the Centre for Citizenship and Globalisation at Deakin University, in Victoria is an internationally recognised researcher on the health, social and economic effects of racism as well as anti-racism theory, policy and practice, and intercultural relations. His presentation, Racism, Racial Profiling and Health, in available here (PDF)
You can hear Daniel Haile-Micheal at an earlier forum speak about his experiences of racial profiling and the reasons he originally took on the race discrimination case in this short video here. https://vimeo.com/62120677
Ross Barnett, Director of the Ethnic Community Council of Victoria (ECCV) spoke about his organisation's strong policy on Strengthening Police and CALD Community Relations. The policy is available here (PDF).
We would like to thank Arnold Bloch Leibler for co-sponsoring the event, and the Law Institute of Victoria for their kind support.
We encourage everyone to make a submission to the Victoria Police Inquiries after June 2013 on "field contacts" and police training to address racial discrimination.
Please subscribe to our e-news contact list here for updates, announcements and information as soon as these inquiries are announced.
---
Past events:
Public forum: After the Race Discrimination Case
5.30pm Tuesday 16 April
Law Institute Victoria
470 Bourke Street, Melbourne
The inside story from the recent race discrimination settlement, the impacts of racially discriminatory policing and how we can work together to end it.
Speakers include:
Peter Seidel, Public Interest Law Partner Arnold Bloch Leibler
Daniel Haile-Michael, Lead applicant in the case
Yin Paradies, Centre for Citizenship and Globalisation, Deakin University
Ross Barnett, Director, Ethnic Communities Council of Victoria
Tamar Hopkins, Principal Solicitor, Flemington Kensington Community Legal Centre
In the second half of 2013, the Victorian public will be able to take part in a Victoria Police review that will examine policy on 'field contact' person checks and its cross-cultural training system.
This review provides an opportunity for police to implement training, policy and practice reforms to prevent racial bias and discrimination when dealing with Victoria's diverse communities.
This important forum for legal, human rights, police, youth and community sector organisations will provide insights into the nature, extent and impacts of racial profiling and the steps we can take to end the practice.
All Welcome. This event is free.
Light refreshments will be available
Register at http://racediscrimforum.eventbrite.com.au or call 9376 4355 by Monday 15th April
---
Race Discrimination Case Settles
An end to racial profiling in sight!
"It's not about one police officer, it's about changing a whole system''
- Daniel Haile-Michael, 18 February 2013

The first and most hopeful challenge to the practice of racial profiling by police we have seen in Australia was settled on Monday 18th February with a landmark agreement for Victoria police to publicly review its training and 'field contact' practises.

The six young African-Australian men who brought this case all the way to the Federal Court alleged that that were stopped, harassed and racially abused by several individual police officers between 2005 and 2009. The legal argument was that these incidents were part of a pattern of racial profiling and that contravened the Racial Discrimination Act.

Tamar Hopkins and this community legal centre, had been working up to this case for over 7 years with the backing of Peter Seidel from Arnold Bloch Leibler, Emrys Nekvapil, Phoebe Knowles and eminent QC Jeremy Rapke who all fought brilliantly for every letter of the landmark agreement.

The outcome was described as an 'historic accord' and received widespread media coverage across Australia and internationally.

It represents one of many such civil litigation cases brought by this legal centre as part of its Police Accountability Project, which has been using public interest litigation strategically in the absence of otherwise effective, independent police accountability mechanisms in Victoria.
Media Release - Tigrigna (PDF)

The Agreement

After six years, on the eve of an eight-week trial during which Victoria Police Chief Commissioner Ken Lay was expected to be amoungst the first to give evidence, the case was settled by a landmark agreement.

This agreement has several important aspects; it has allowed the young men to tell their stories in public; it provided internal documents discovered during the long lead up to the case and crucial research commissioned specifically for the applicants to be publicly released; and it outlined how Victoria Police will conduct an public inquiry into how it conducts stops and searches and its 'cross-cultural training' program. THe full joint statement that was read out in court is available below.
The Joint Statement- English (PDF)

The research reports
Victorian Police LEAP data from Flemington and North Melbourne (2005-2008) was analysed during the case by an eminent statistician, Professor Ian Gordon. The results proved what young African people have known and reported for years - that they were about two and a half times more likely to be subject to an arbitrary "stop and search" than their numbers in the area suggests likely.
The justification given for such policing rests on their supposedly high representation in local crime statistics. Yet Professor Gordon found that the same police LEAP data revealed a significant under-representation of the stopped young African Australians in the crime figures. A summary of the findings are below.
Summary of Experts Report - English (PDF)
Summary of Experts Report - Arabic (PDF)
Summary of Experts Report - Amharic (PDF)
Summary of Experts Report - Dinka (PDF)
Summary of Experts Report - Tigringna (PDF)
Summary of Experts Report - Somali (PDF)
Complete copies of the expert reports are available here
The Victorian Police reviews

In the second half of 2013, the Victorian public will be able to take part in a Victoria Police enquiry that will examine policy on 'field contact' person checks and its cross-cultural training system. Police will publish a report of that examination and announce what actions it will undertake by the end of the year.

This review provides an opportunity for police to finally admit that racial bias can and does occur in policing and implement clear unequivocal training, policy and practice reforms to prevent it occurring in the future. The Chief Commissioner can use this enquiry to institute 'root and branch' change, based upon best international experience and practice and vastly improve the way police work with new and culturally diverse communities.
We recognize the importance of these two inquiries and believe that they represent an historic opportunity to respond to community concerns in a tangible and productive way and to find lasting solutions.
In order that these reviews be as effective as possible we request that the terms of reference for each be as transparent, broad and accessible as possible.
In particular we would expect:
That these enquiries are conducted with as much independence and external input as possible;
That the enquiries will have terms of reference which are wide enough in scope to encompass the breadth of the issues concerning racial bias within police field contacts and the ability to look at all possible solutions;
That the inquiries specifically include examination of the indigenous experiences with field contacts, stop and search procedures and training relating to policing of indigenous people;
That the inquiries seek out and examine international research, experience and best practices from overseas police forces responding to similar issues;
That the time period for public submissions is adequate to allow community input, giving adequate time to inform communities and for public submissions to be made;
That submissions are accepted in multiple formats to allow diverse community input.
What we think needs to happen
Racial profiling must be specifically trained against – otherwise implicit racial stereotyping will occur. Policy must reflect the fact that racial profiling of any type is unlawful and contravenes basic human rights. Practise must ensure that any racial profiling be identified through statistical collection and a stop and search receipting system such as was implemented in the UK. Victoria Police would be required to collect demographic data, develop procedures to respond when racial bias appears, and develop policies to discipline officers who engage in the practice.

Finally, to clearly end the practise, the stage is set for Victoria to take the lead and introduce specific anti racial profiling legislation. Legislation would also create an enforcement mechanism to ensure that police anti-profiling policies are being followed and victims of profiling are able to seek redress. Unless racial profiling by law enforcement agencies is specifically made unlawful, as it is in other countries, incidents such as those that prompted the Haile-Michael case will occur again and again.

We owe it to the courage and tenacity of the six young men involved in this case that put an end to racial profiling once and for all.
More information about the Victoria Police Inquiries will be provided as soon as it is available. Please contact the centre or sign up to our e-news for further information.
---
West of Memphis. A special screening for the Race Discrimination Appeal
7.00pm Friday 15 February
Nova Cinema
380 Lygon Street, Carlton, Victoria
Tickets $20: purchase tickets
The new documentary "West of Memphis" directed by Amy Berg and backed by Peter Jackson has already received much critical acclaim, and covers the gripping case of the West Memphis Three, the true story of a colossal miscarriage of justice in Arkansas beginning in 1993.
It is a chilling reminder of the fragility of the access to justice that we take for granted in Australia, but also tells the story of the powerful public awareness campaign that finally saw the three young men in question released from prison for crimes they did not commit.
Soundtrack by Nick Cave and Warren Ellis, with Patti Smith, Bob Dylan, and Lucinda Williams and more. West of Memphis official site
Tickets are $20: purchase tickets
All funds raised go to support the groundbreaking Race Discrimination Case being brought by six brave young men against the Victoria Police. The case begins in the Federal Court on Melbourne in February.
---
Public Forum: Real Solutions to Racial and Religious Profiling
An important public forum with Professor Ben Bowling, a visiting international expert on the policing of minority communities.
Ben Bowling is Professor of Criminology & Criminal Justice at King's College in London. He has published widely on the policing in the broader social context of ethnicity, inequality and racism and writes extensively on fairness, effectiveness and police accountability in the local, national and transnational spheres. He regularly speaks at conferences and in the media.
Presented by IMARA Advocacy, in conjunction with the School of Political and Social Inquiry, Monash University and Flemington Kensington Community Legal Centre. This forum will discuss racial and religious profiling in the United Kingdom and what lessons we can draw from the policy and political changes that have taken place over recent decades.

IMARA Advocacy, a grassroots organisation run by and for young people of colour, formed in 2011 to raise awareness of the problems of racial and religious profiling and racism in the criminal justice system and advocate for real solutions.

Friday 30 March, 2012
3pm - 6pm
Flemington Community Centre
25 Mt Alexander Road, Flemington

Please RSVP by Wednesday 28 March to fklegal@fkclc.org.au


---
Stop and Search Receipting Policy - 12 August 2011
A detailed Stop and Search Receipting policy has been developed by Arnold Bloch Liebler (ABL) and Flemington & Kensington Community Legal Centre (FKCLC) and is now available here (PDF).
This new policy would require officers of Victoria Police to complete a form and issue a receipt every time they stop, or stop and search, someone. The proposed policy is a response to community perceptions that members of some racial or ethnic communities within Victoria are stopped and searched by police officers more often than members of the anglo-saxon community within Victoria.

The policy would create greater transparency as to the use of stop and search powers, by creating concrete data about every police stop and search in Victoria. The results of the policy would show either that the perceptions of racially-motivated policing are unfounded, or that those perceptions are accurate. If there is, in fact, a problem with any members of Victoria Police using stop and search powers in a discriminatory manner, the proposed policy would bring greater accountability to the use of those powers. It would also provide a firm factual basis for the introduction of policies to remedy such discrimination.

Greater transparency and accountability in the use of police powers is beneficial to society's level of confidence in policing as well as the rule of law. Discussions have begun with Victoria Police

The Roundtable will set out the international context and rationale for the policy, and provide an opportunity to explain what the policy might mean for members of the Victorian public and discuss its implications. We will also discuss steps in advocating for its introduction.

The detailed Policy Proposal document is available here (PDF)
20 Years Still Waiting... 9 August 2011
The National Police Accountability Network of the National Association of Community Legal Centres has written to the Attorney-General and Minister of Indigenous Affairs to highlight the inadequacies of internal police investigations procedures across Australia. They call for mechanisms for the impartial investigation of police behaviour in Australia
Twenty years after the report of the Royal Commission into Aboriginal Deaths in Custody (RCIADIC) key recommendations stressing the need for an urgent review of the processes for dealing with complaints against police have not yet been implemented.
Tamar Hopkins, Convenor of the National Police Accountability Network said 'Our current observations, which coincide with the observations of the Royal Commission 20 years ago, are that Aboriginal and Torres Strait Islander peoples do not have confidence in the existing police complaints mechanisms, and tend not to lodge complaints even where they have been treated unfairly, unreasonably, unlawfully, or even maliciously, by police'.
'Significant changes to current police accountability mechanisms are required to enable the confidence of people who come into contact with police. Changes are also necessary for Australia to comply with international human rights standards, which require effective investigation of any actions of the police that lead to violation of an individual's human rights' she continued.
Both the United Nations Human Rights Committee and the Committee Overseeing the Implementation of the United Nations Convention against Torture and Other Cruel, Inhuman or Degrading Treatment or Punishment have raised concerns about Australia processes for investigating complaints again the police and stressed the need for independent and impartial complaint and investigation processes.
A PDF copy fo the 6 page letter is available here.
---
Discipline Investigation Manual Released under FOI - 10 July 2011
For the first time, following a request by Visho Zeqaj, Victoria Police has released its Discipline Investigation Manual to the public. The Manual sets out how Victoria Police investigation into public complaints should proceed. The release of the Manual is important step toward increasing the accountability and transparency of Victoria Police internal investigations.
Media: http://www.theage.com.au/victoria/bias-claims-as-complaints-rise-against-police-20110709-1h7zi.html
The Discipline Investigation Manual is available here. The appendicies to the manual are available here.
The FOI request for the DIM followed concerns about adequacy of an internal police investigation of a complaint Mr Zeqaj made about police assaulting him and the failure of the Office of Police Integrity (OPI) to remedy the deficiencies in this investigation.
Now, the release of the Discipline Investigation Manual makes it quite clear the police investigation breached their own guidelines.
The release of the Discipline Investigation Manual tells us several things about the investigation of Mr Zeqaj's complaint. Firstly under the Investigator should have interviewed all the police involved at the scene where Mr Zeqaj was allegedly assaulted (page 15 of the DIM).
Secondly, the OPI review should have noted these failures in the investigation (page 46 of the Discipline Investigation Manual). The OPI review failed to do this.
The release of the Manual shows that the OPI is failing to ensure that police investigations comply with their own manual. These oversight failures mean that not only do the police investigate themselves, but there is no effective oversight of their investigations.
The failures in internal investigation is bad for members of the public, but it is also bad for Victoria Police members who are genuinely trying to do the right thing. Who can have faith in an investigation process where even basic failures like interviewing of all police members does not occur?
The release of the Manual also reveals some other problems. For example – it is silent on whether police from the same police station can investigate their own. At page 48 the manual states that in cases where investigators know the police they are investigating, they should refer the investigation to another member. However, the fact that they do not now know the police they investigate does not mean that in the future they may be working directly with them. This is particularly a possibility where officers work at the same station.
Furthermore, where officers may not be personal known to the investigator, the officer may still be under the same chain of command as the investigating officer. Failures in police employed lower down in the chain of command could demonstrate a failure in training and supervision at the stations command or senior levels. An investigator who is part of this chain of command cannot be impartial in these investigations.
Interestingly, and importantly, the Manual makes it clear at page 47 that investigators should be compliant with human rights in their investigations. However the Manual fails to make it clear that to comply with human rights, investigations into human rights breaches must be:
a) independent
b) effective and capable of leading to criminal and/or disciplinary outcomes;
c) prompt;
d) open to public scrutiny;
d) involving and protective of the complainant.[1]
Leaving aside the issue of whether any Victoria Police member could actually be independent enough to meet these human rights requirements, the manual reveals that Victoria Police have yet to incorporate these key principles into their complaint investigations.
The DIM also sets out Victoria Police's assault reduction strategy. This strategy requires that whenever a civilian claims that they have been assaulted by police, a supervising officer be informed and that the Ethical Standards Department be notified so that ESD can commence and investigation immediately.
This Strategy has been in place since 1998. The FKCLC is aware of numerous cases where civilians make complaints and police stations and no such notification to ESD has occurred.
This system has been under the supervision of the Office of Police Integrity since 2004 and yet the strategy is not being carried out.
The public release of the manual enables us to see that is quite clear that Victoria Police is not investigating in accordance with their manual and that furthermore, the OPI is not ensuring that investigations comply with the manual.
It is critical that the Government's plans for an IBAC ensure it incorporates the independent investigation of all public complaints against police.
---
FKCLC in the Media:
Media release, 15 October 2009 Victims of police abuse let down by Brumby Government
THE AGE 29, November 2010 Police face fresh claims of racism
Moonee Valley Leader, 15 December 2010 Flemington youth takes cops to court
The Australian, 6 April 2011 Young Africans case against police
ABC LATELINE, 3 May 2011 Victoria police implicated in racial profiling VIDEO
ABC RADIO, 4 May 2011 Vic Pol accused of racial profiling
ABC NEWS, 4 May 2011 Documents appear to show racial profiling
VIC POLICE NEWS, 4 May 2011 Vic Pol responds to abc report on racial profiling
3AW 693, 4 May 2011 Sudanese racially profiled
THE AGE, 13 May 2011 Racial profiling is part of the problem, not the solution
Media release, 5 July 2011 New Research points to Police Profiling on Race
ABC News, 5 July 2011 Centre claims Africans 'unfairly targeted' by cops
The Australian, 6 July 2011 African youth 'cop targets'
The Leader; Moonee Valley, 7 July 2011 Report suggests Police bias against Africans